Episodes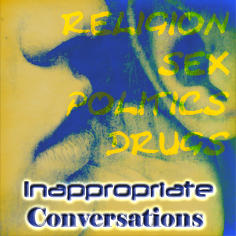 Saturday Aug 04, 2012
Saturday Aug 04, 2012
In a fascinating exchange of interviews on NPR Fresh Air last month (the Inappropriate Conversations page on Facebook has links), an American nun and priest traded perspectives on the true meaning of the term "pro-life."  The priest referred to the position of the pope on specific issues like abortion and euthanasia.  The nun made a distinction between pro-fetus policies and the larger set of pro-life policies including poverty and war among other threats to life.
I have always maintained that the term itself, pro-life, is meaningless.  From an earthly perspective, all of us will die.  From an eternal perspective, the response of some in the church to controversial issues like abortion strongly and wrongly imply that God's metaphorical hands are tied.  He is somehow powerless to save, either during an earthly lifespan, regardless its length, or afterward.
Of course, politically-focused church members and representatives quickly backtrack from these flirtations with heresy.  However, their policies don't line up with either a confidence in God's Providence or with the commands from Jesus and his apostles that hatred is unacceptable and we must not express it.  In both a gospel and letters, the Biblical writer John speaks for Jesus very clearly.
"Everyone who hates his brother is a murderer; and you know that no murderer has eternal life abiding in him.  We know love by this, that he laid down his life for us; and we ought to lay down our lives for the brethren.  But whoever has the world's goods, and sees his brother in need and closes his heart against him, how does the love of God abide in him?  Little children, let us not love with word or with tongue, but in deed and truth." (1 John 3: 15-18)
Jesus said, "You search the Scriptures because you think that in them you have eternal life; it is these that testify about Me; and you are unwilling to come to Me so that you may have life.  I do not receive glory from men; but I know you, that you do not have the love of God in yourselves." (John 5: 39-42)
In the epistle, John refers to Jesus' words in the Sermon On The Mount (Matthew, chapters 5-7).  In the gospel, John quotes Jesus directly.  Two warnings are clear.  One is a statement that you cannot be pro-life and express hatred, not toward politicians or doctors or women who've had an abortion, and not toward homosexuals.  The other is Jesus explaining that the Old Testament must not be an object of worship; that's not what the Bible tells us to do, even about the Bible itself.  Jesus says that those Hebrew Scriptures provide a testimony about Him, and that following those rules and laws will not give life.  It is one of many passages where he makes claims to deity that his Jewish contemporaries could not (and did not) miss: Jesus says that He is the way to eternal life.
These points matter, perhaps now more than ever.  In the midst of angry words this week over the meaning of "marriage" and the significance, or relative insignificance, of Levitical laws, more than one Christian on more than one occasion told me (with alarming confidence) that "Jesus tells us to hate ..."
I used quotation marks for a reason.  That's a direct quote.  It comes, in part, from the non-Biblical notion of some Christians that they must "love the sinner but hate the sin." It's a borderline heretical concept, where these Christians have taken the words and anthropomorphic descriptions of God's character from the Old Testament and presumed that they must be "like God."  It's heretical when this transforms into "playing God" by deciding through the politics of our times that Christians can levy judgment against others on the basis of Hebrew Scriptures in God's name.
Jesus has told us two things that we must not forget.  First, we aren't commanded to hate anything or anyone; in fact, Jesus commands us not to hate.  The line about "Jesus tells us to hate" is dangerously misguided and the driving force behind most of the very public actions from Christians in recent days.  Second, as Christians our guidance comes from Jesus and not a set of rules that he directly told us cannot supersede His love.
If we make a mistake here, we are not "pro-life" no matter what our political policies proclaim.  The Bible says we are murderers.  My fellow Christians have taken action and spoken words this week that were ultimately designed to shun our neighbors, supporting people who finance organizations with goals of isolating, arresting, or perhaps executing those same neighbors as "an abomination."  It is blasphemy to claim that this is what Jesus would have us do.